Chester River Carnival
I was approached by Notting Hoole to design a poster for their event, The First Ever Chester River Carnival, happening in July this year. I've worked a lot recently with Notting Hoole so was only too happy to take on this exciting project.
The brief was to produce a vibrant eye-catching piece. Not too summer/village fete looking and to include Queens Park suspension bridge or the bandstand. And a poster that could be used digitally online to promote the event.
So I popped down to The Groves with my camera to gather lots of images and inspiration. The Groves is situated between the suspension bridge and Handbridge alongside the river Dee. It's a beautiful area and when the sun is out it's a great place to relax with an ice cream listening to whoever is playing on the bandstand.
Queens Park Suspension Bridge
I thought the bridge should be the star of the show and set about drawing it in Illustrator. It's a far more simplified version of the bridge on the poster but is instantly recognisable as one of Chesters most iconic landmarks.
The font used for the main headline has a fun carnival feel. Other fonts used on the poster are those used on previous Notting Hoole publications for continuity.
Here's the final poster which Sue at Notting Hoole loved and it's used on all their social media platforms and it's also been printed and distributed around Chester.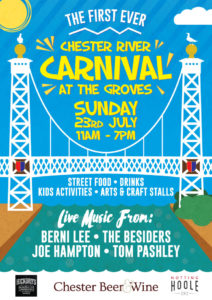 So if you're in Chester on Sunday the 23rd of July make sure you pop down to the First-Ever Chester River Carnival. There will be loads to do for both adults and children and it's a free event. I hope to see you there!
If you require a digital designer to produce artwork for an event you're planning please do not hesitate to get in touch. I'm always looking out for fun projects like this.
Cancelled
Unfortunately, the Chester River Carnival has now been cancelled.